Chris Bockius MS, CSCS, Pn1, CSAC, FMS
Chris Bockius is the Strength and Wellness Director at XCEL Performance Health & Wellness. He holds a Bachelors degree in Biology from Illinois College, Master's degree in Sports Science and Rehabilitation from Logan University, he is a Certified Strength and Conditioning Specialist, Precision Nutrition Level 1 Certified, Certified Speed and Agility Coach and he is FMS Certified Level 1.  Chris had been training athletes and people of all ages for over 5 years. Chris is also an adjunct professor at Quincy University in the Exercise Science Department.
Chris is uniquely talented in the area of communication, making difficult concepts simple and ensuring that his clients understand the rationale for their training sessions as well as the at home routines he gives them.  His unique skills in Body Assessment, Muscle Testing and Exercise Prescription allow him to provide the finest and most individualized training programs.
Chris was a two sport athlete in college, playing both football and golf.   Exercise and healthy living continue to be a big part of his daily life. In his off time he likes to spend time with his wife, Kelli and daughter, Kori. He enjoys playing golf, exercising and spending time outdoors.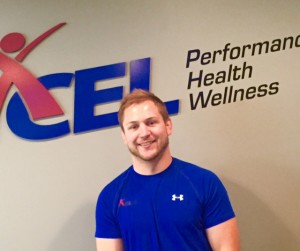 Francisco Rivas, CSCS, Pn1, USAW
Francisco Rivas is the Assistant Strength and Conditioning at XCEL Performance Health & Wellness and Group Fitness Instructor. He holds a Bachelor degree in Exercise & Sport Science with Pre-Professional emphasis in Physical Therapy from Hannibal La-Grange University. He is a Certified Strength and Conditioning Specialist and USA Weightlifting Level 1 Sport Performance Coach. Francisco has a vast experience in sport performance and had been training athletes of all ages for 3 years. He started his career at Hannibal La-Grange University as the Strength and Conditioning Coach of the Lady Trojans Softball Team where he was in charge of athletic profiles, periodization, and individualized strength programs.
Francisco is driven by research and use technology to provide feedback to athletes. His unique skills in athletic profiles, percentage based training, periodization, power, strength, and agility testing allow him to provide individualized program with a yearly plan based on sport season and peak athletes for competition.
Francisco played baseball for 4 years at Hannibal La-Grange University and 3 years in the Prospect League with the Hannibal Cavemen. He enjoys volunteering for children fitness camps and baseball camps, exercising and hiking.  Francisco's plans in the following years is to pursue a Master's in a field related to Sport Performance or Rehabilitation as he is working towards a Doctorate in Physical Therapy.