Can't make it to XCEL to train? We have you covered with our Online Training. We utilize the True Coach platform, to provide you with he same high quality customized training right to your smartphone or tablet. You will be able to have all of your workouts right in front of you and take them anywhere you want. This platform allows instant messaging, data tracking, video demos, nutritional goals and more. It is an unlimited coaching experience.
Let's Get Started!
Fill out the questions on the left to proceed.
Showing
0

Coach(s)
Bacardy Taylor CSCS
I Graduated from Quincy University with a BA in Exercise Science.
I've been personal training and coaching for 5+ years with clients from the age of 8 to the age of 90.
The best thing about coaching is being able to provide my clients with an individualized structured program that yields them the results they want, and helps them along their fitness journey.
Brandi Hughes AFAA CPT
Founder/ Owner Brandi's Bootcamp, LLC
Certifications:
Specialization:
Group Fitness
Bootcamp Instruction
High Intensity Interval Training
Nutrition Coaching
Training Experience:
Beginners
Avid fitness enthusiasts
Men and Women
Chris Bockius MS, CSCS, Pn1, CSAC, FMS
Founder/ Owner of XCEL Performance
Educational Background:
Bachelor of Science in Biology form Illinois College
Master of Science in Sports Science and Rehabilitation from Logan University
Certifications:
Certified Strength & Conditioning Coach through NSCA
Precision Nutrition Coach Level 1
Functional Movement System Level 1
Certified Speed & Agility Coach through National Sports Performance Association
Specialization:
Functional Training
Corrective Exercise
Post Rehabilitation Training
Nutrition Coaching
Speed Development
Sports Specific Training

(Football, Soccer, Baseball, Softball, Basketball, Golf, Volleyball & Track & Field)
Training Experience:
Professional Athletes
Collegiate Athletes
High School Athletes
Youth
General Population (emphasis on post rehab)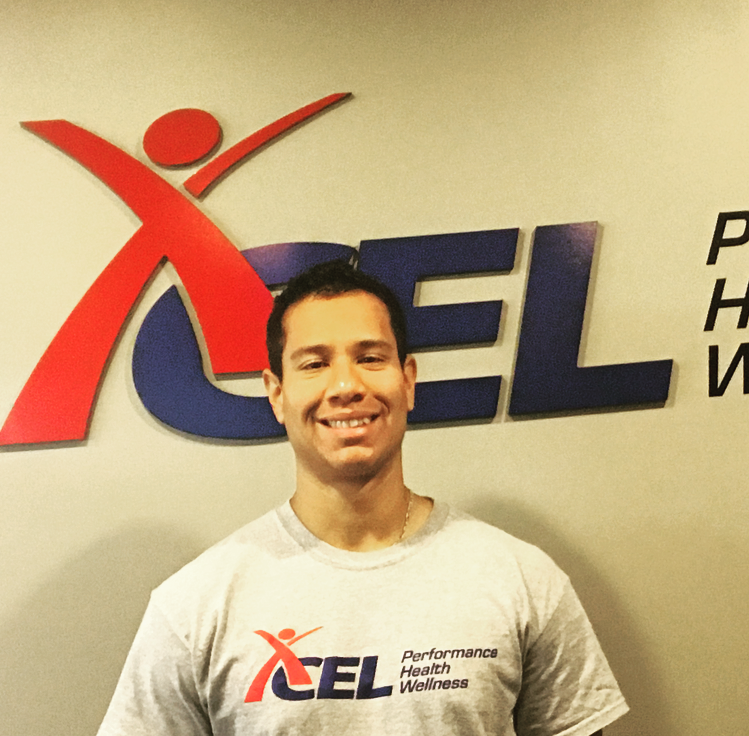 Francisco Rivas CSCS, USAW, PN1
Specialization:
Baseball
Softball
Rehabilitation
Throwing Analysis
Training Experience:
Professional Baseball (Detroit Tigers)
Collegiate (Baseball & Softball)
Collegiate Athletic Experience
High School
Youth
Educational Background:
Bachelors in Exercise & Sport Science with Pre-Professional emphasis in Physical Therapy from Hannibal La-Grange University.
Master in  Kinesiology with an emphasis in Orthopedic Rehabilitation & Sport Psychology from A.T. Still University
Certifications:
Certified Strength & Conditioning Coach through the NSCA
Certified USA Weightlifting Coach Level 1
Precision Nutrition Coach Level 1
On Base University Pitching & Hitting Certified
Rhapsodo Pitching & Hitting Certified
Logan Hicks
Specialization
Athletic Performance
Quarterbacks
Educational Background
University of Central Missouri
Collegiate Football & Track
Training Experience
University of Kansas Football Strength & Conditioning Quarterback Development
Collegiate Quarterbacks
High School Quarterbacks
Youth